Back to index
How to use search filters?
The filters are very useful not only for searching documents but also for getting an overview of your business.
For example, let's say you want to see all canceled invoices within a certain time range, for a specific client, issued by a particular user. Or perhaps you're interested in all the invoices issued in a specific currency for clients from a certain country. Or, why not, you're curious to find out how much you've collected in the first month of the current year compared to the first month of the previous year.
You can generate all kinds of combinations depending on the type of information you are searching for. By using the filters, you have access to invoice and revenue details, which can later be used to create your own business intelligence reports.
For pre-set reports within the application, go to the Reports menu.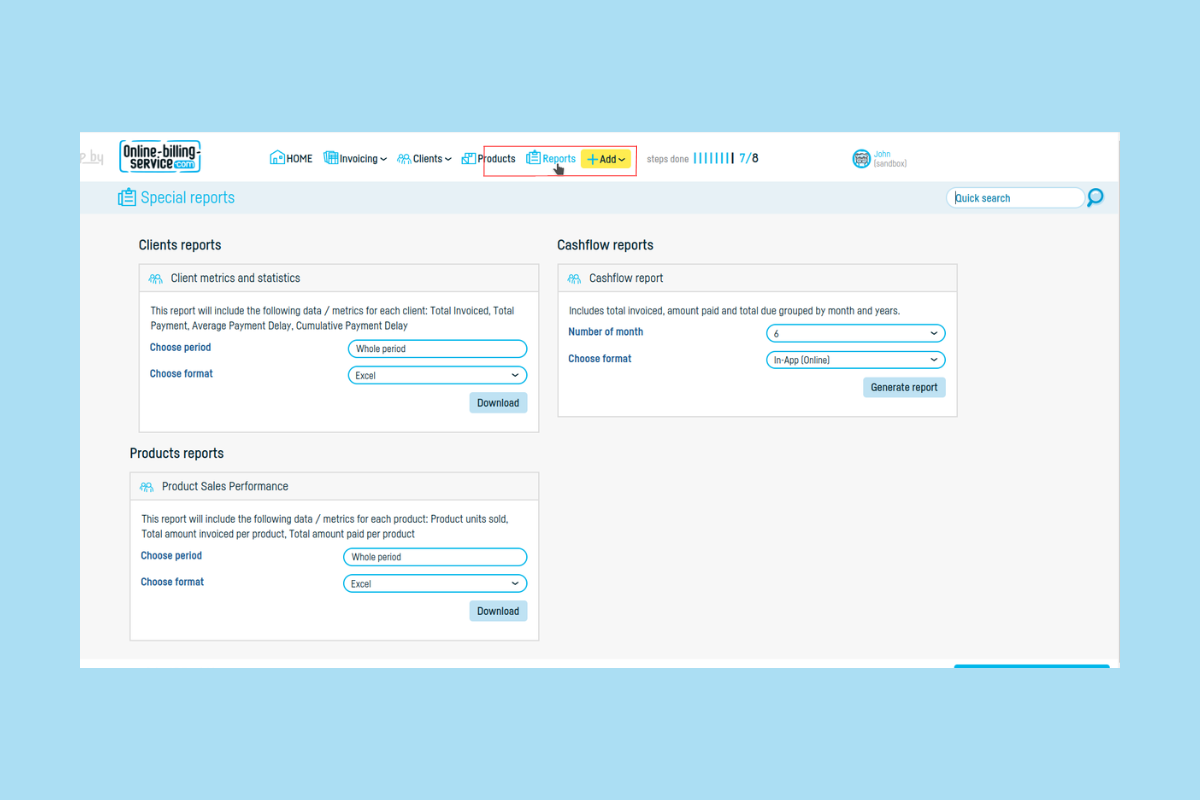 There are filters for all the document categories: invoices, proformas, receipts, and delivery notes. As well as for projects, time sheets, and standard documents.
In any of these categories, the filters, although tailored to the respective category, work the same way. They are always arranged vertically on the left side of the screen. You just need to click on a category and they're there.
For this article, we will use the filters for Invoices as an example.
Step 1. Click on Invoices in the Invoicing menu.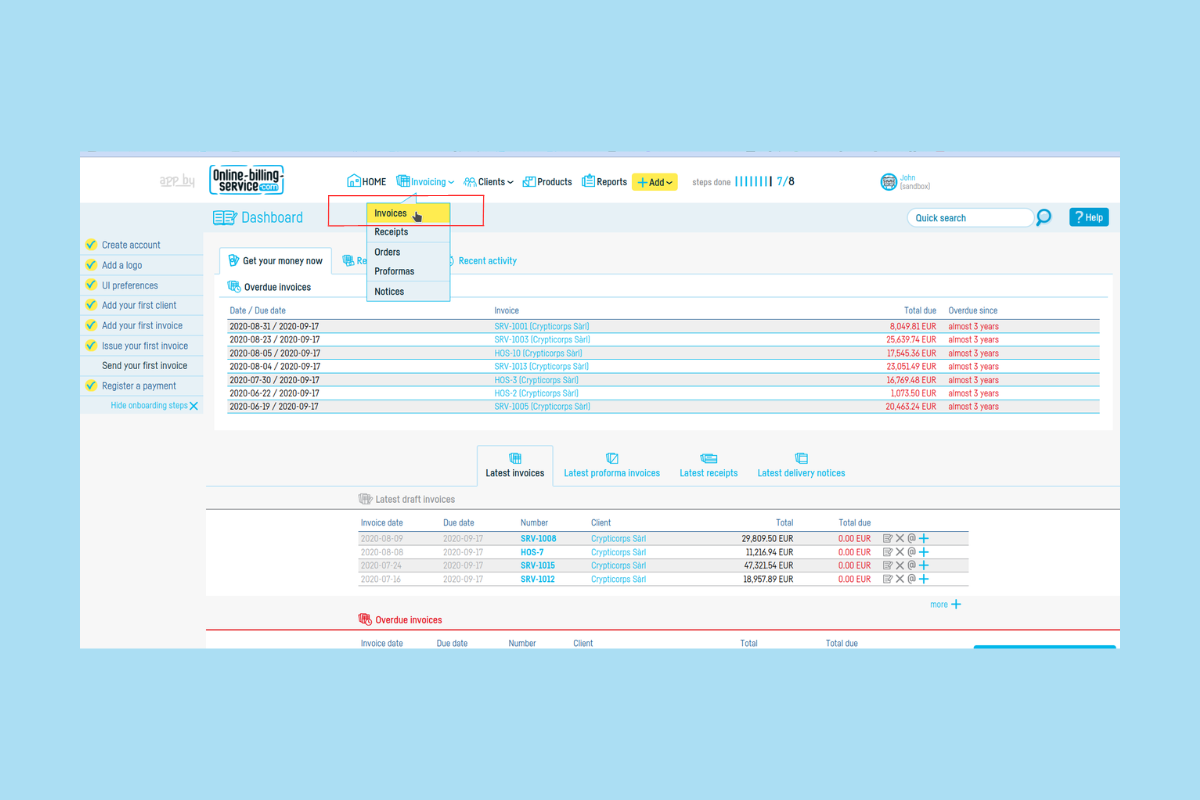 Step 2. Click on the filter(s) that you need from the vertical list.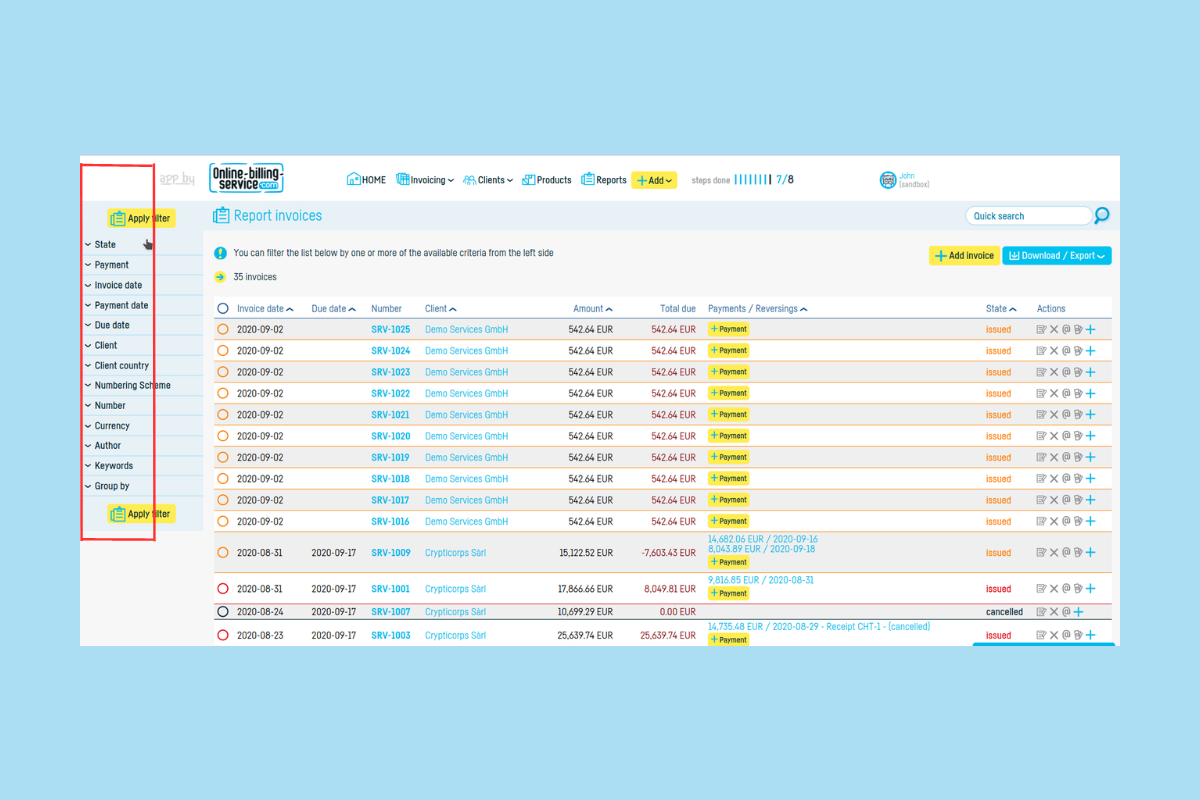 Step 3. Choose or select the filter criteria. In our example, we have chosen to view all Issued invoices during the first two days of September 2020, for the client Demo Services, issued by the user Smith John.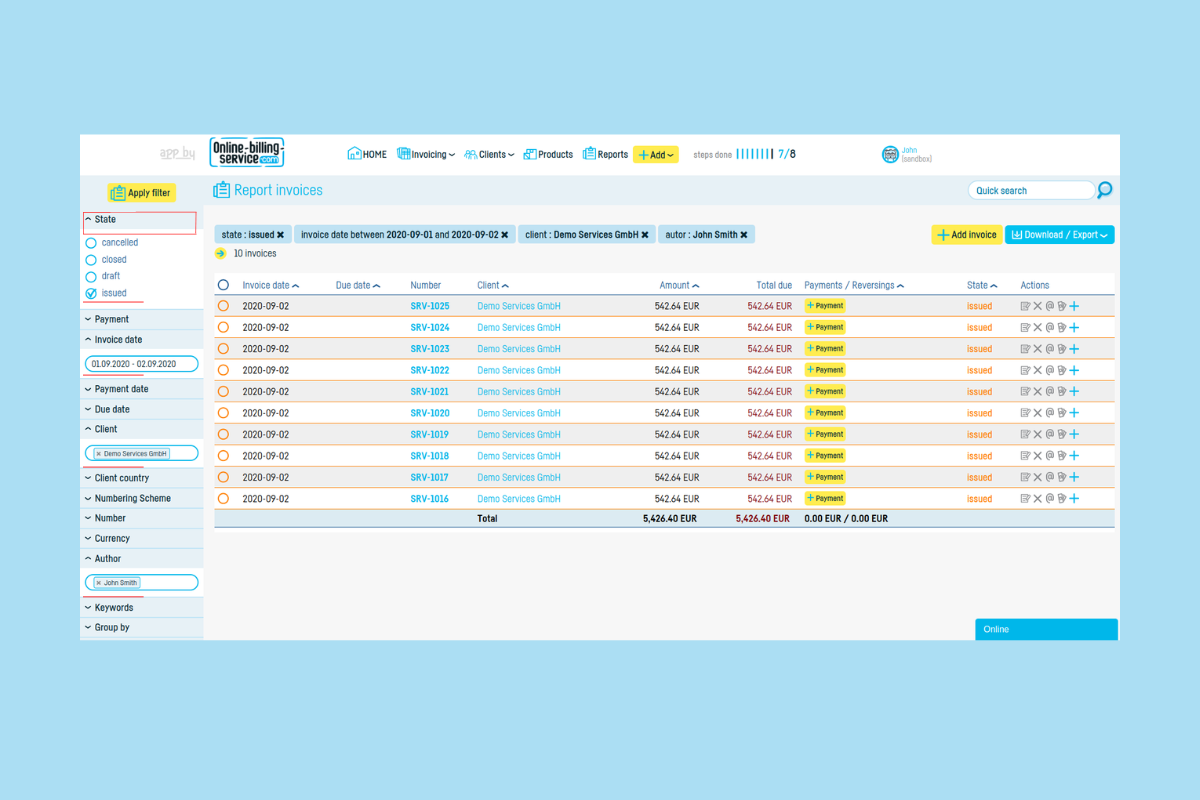 Step 4. Optional. Group the information.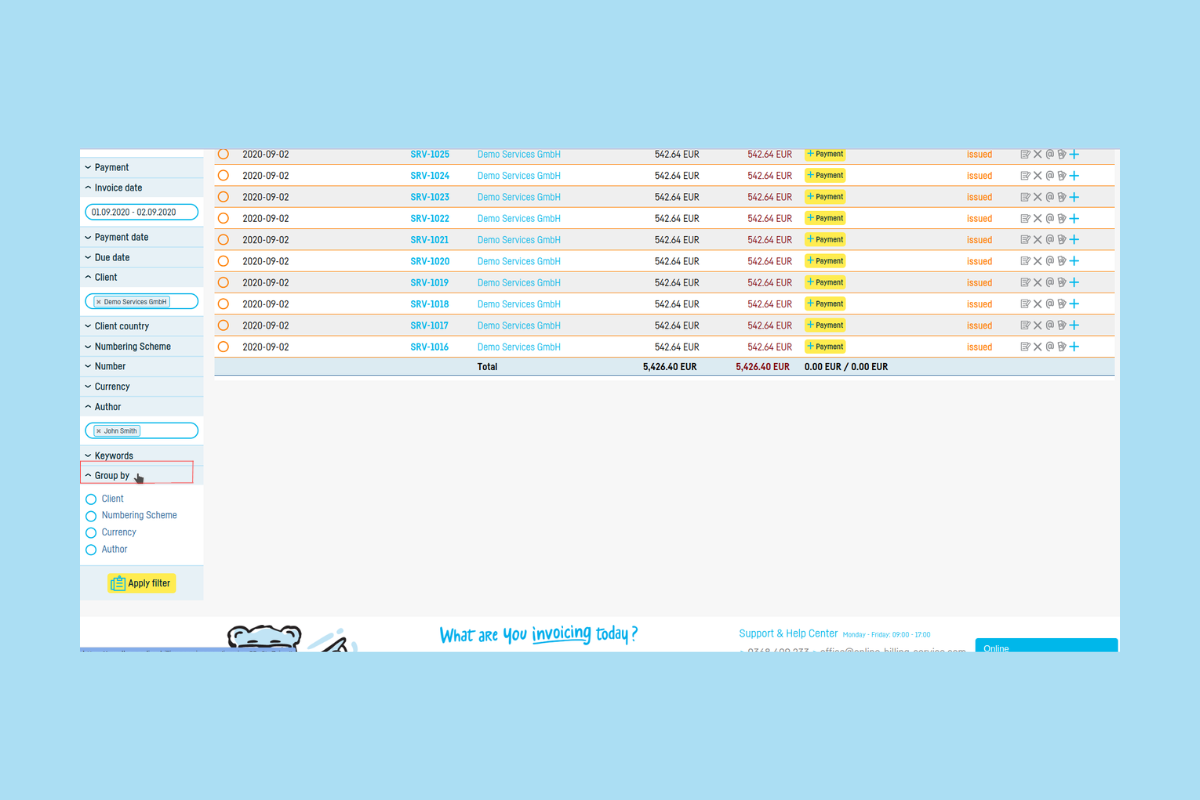 Step 5. Export the resulting list in the desired format. Or click on any of the documents in the list if you don't need to export them.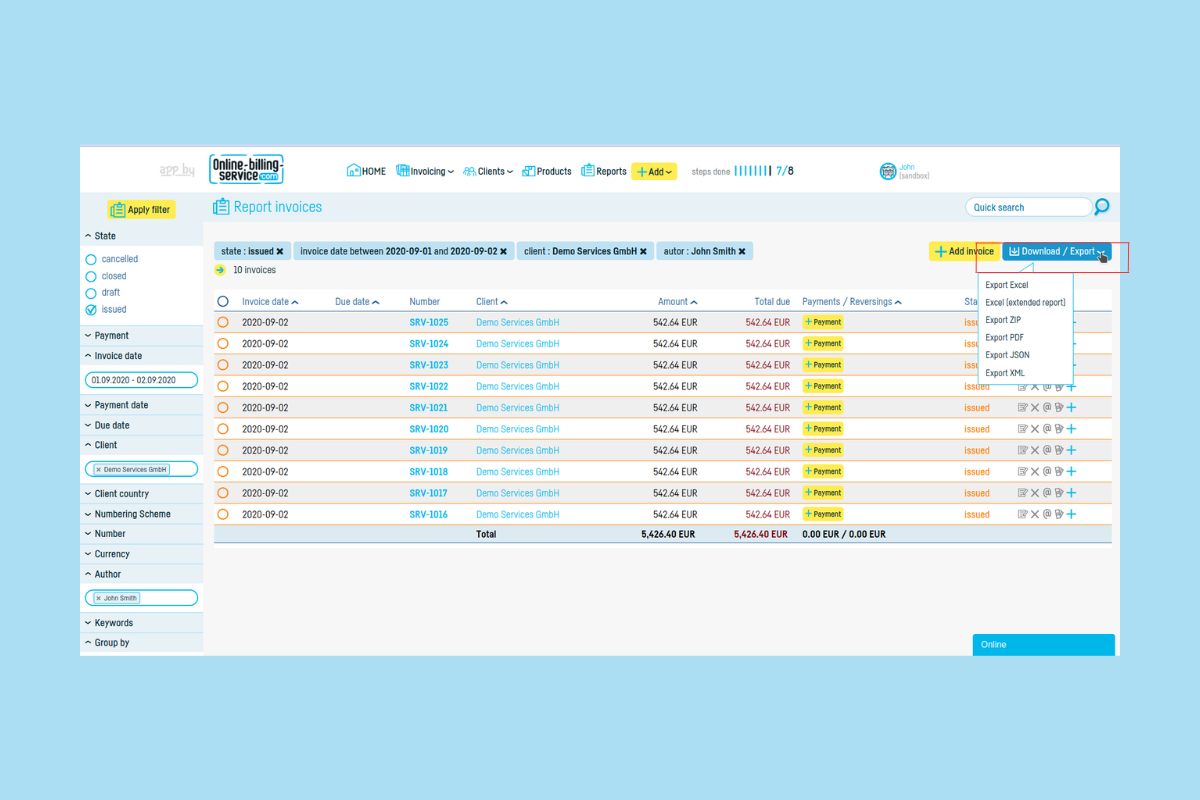 Filtering by a time range is very useful when you need to export documents for accounting purposes. Select the month and export the documents in PDF or any other of the available formats.
For comparisons, you need to export two or more exports, depending on how many comparison criteria you are interested in. For example, if you want to find out the value of canceled invoices in 2022 compared to 2023, first export a list of invoices filtered by the "Cancelled" status, for the period 01.01.2022 - 31.12.2022. Then, do the same for 2023.
Note that the filters remain active even after you exit the category in which you applied them. When you return to the category page, the documents will be filtered according to the last criteria you selected. If you no longer need them, delete them from the top, above the document list. Filters are automatically cleared only when you log out of the application.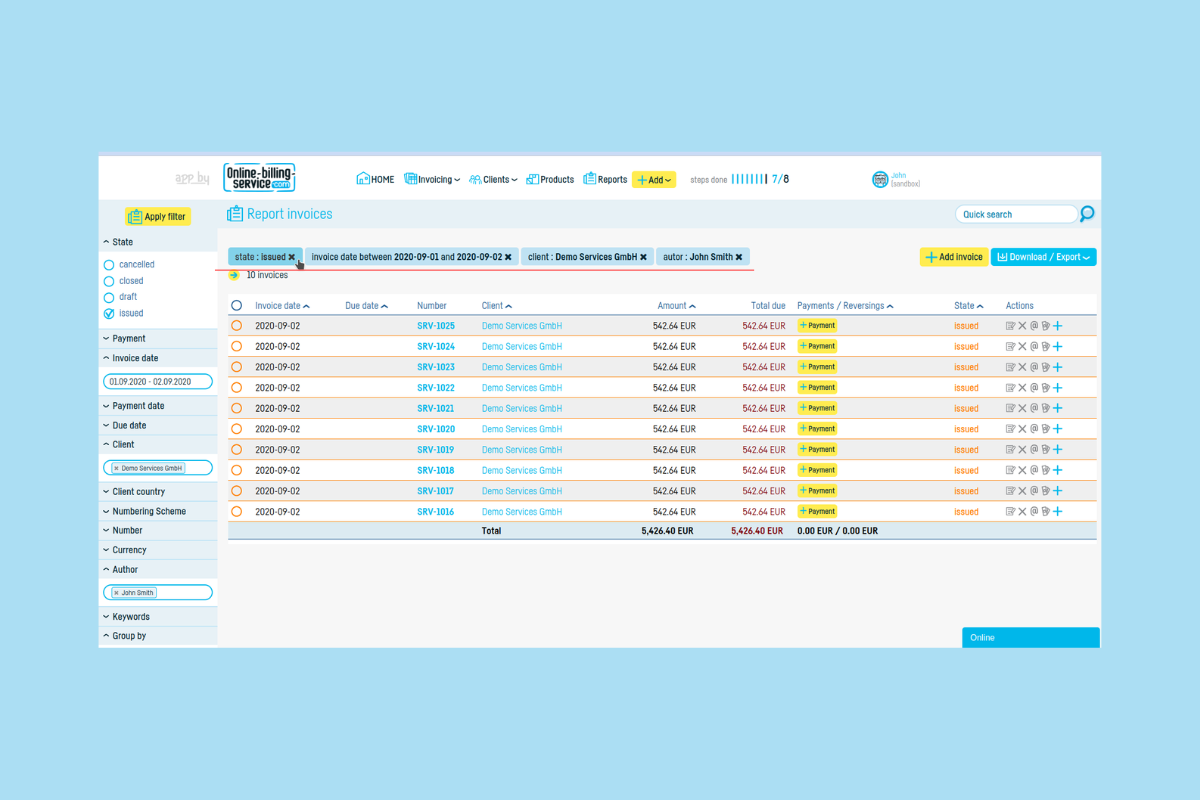 Back to index