Back to index
How do I send an invoice by e-mail?
An invoice can be sent very easily to the customer by e-mail. You can do it in several ways:
from 'Invoices'
from the invoice details view page
downloading the invoice in PDF format and sending it using your favourite e-mail client (outlook, thunderbird, etc)
Invoices can also be sent automatically by email. More details about this feature can be found here: how to send due invoices by e-mail.
1. Invoice sending from 'Invoices'
From any invoicing list you can quickly send an invoice by email. In the 'Invoices', on the same line as the invoice number, at the end of it you find the option to send the invoice by e-mail. If the invoice is already due, the reminder message will be used.


Or you can select your wanted invoice, then click the 'Send' button, which will appear above the invoicing list after the selection:

2. Invoice sending from details page
In the left menu, you can access the email features. Depending on the invoice status you have:
payment reminder message — if the invoice is overdue
payment confirmation message — if the invoice is paid
simple invoice sending message
In all cases, the invoice will be attached to the email in PDF format.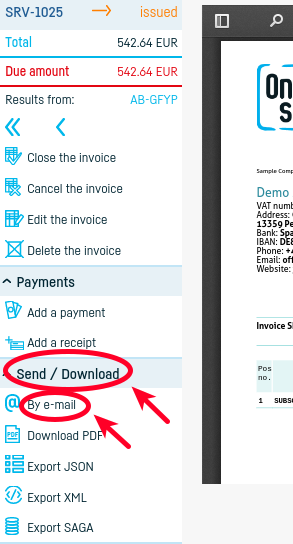 Invoices downloading (saving)
If you want to use your email client (e.g. Microsoft Outlook, Apple Mail etc) to send an invoice, you can download it in PDF format on your computer from the invoice details page.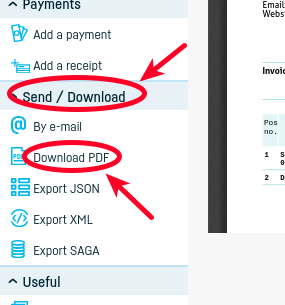 *Sending a set of invoices by e-mail*
To send multiple invoices at a later time, you can select all invoices by ticking 'Invoice Date' or one at a time, then you can download them using your email client or send them directly from the application, as shown in the picture below: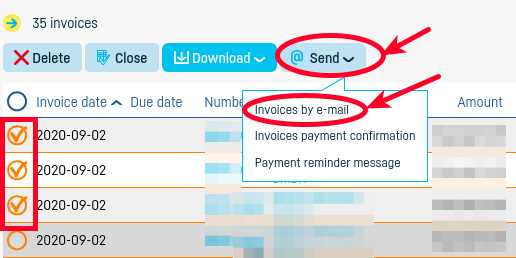 Use the invoicing filter to select the invoices you want (e.g., for a specific period or for a particular customer), then generate the report and download them in the formats in the image.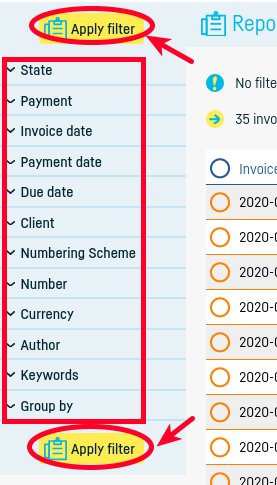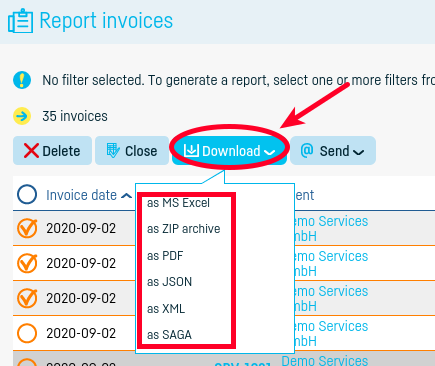 You can configure the messages that are used to email the invoice. Find out more here: how to define messages on e-mail sending.

Back to index