Back to index
Notify subscribers before their invoices are issued
For your subscribers not to be taken by surprise when you issue the invoices to them, we have implemented a feature that you can notify them before the invoice is issued.
In the add recurrent or edit recurrent form click on  "Advanced settings" then check the box  "Send notifications before the invoices are issued" , to activate it.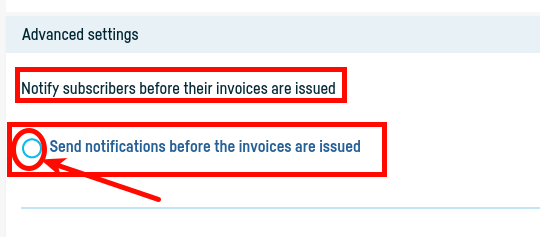 After checking the box fill in the fields that open to set the notification details:

Do not forget to save!
Click here for more details about adding a new recurrent.
Click here for more details about automatically issuing invoices when running the recurrents.

Back to index