Back to index
How do I add a recurrent?
If you offer regular invoicing services, then the easiest way is to use the recurrent system that allows you:
– to define recurrents (see below),
– to automatically send invoices to your subscribers
To add a new recurrent, follow the steps:
Click on '+Add' and select 'Recurrent'.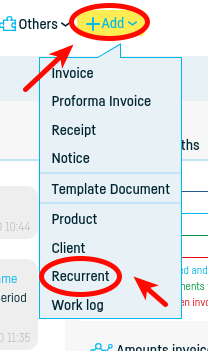 2.Let's take the example of creating a subscription for hosting services (hosting websites):
– I chose the standard subscription type because I want the price to be the same for each subscriber
(Choose the type of recurrent with the editable price if you want to be able to set the price of the first line of the invoice for each individual subscriber)
– we gave the subscription a relevant name, namely 'Hosting Services 3 Months'
– we chose the payment to be made in advance every three months (so the customer will receive an invoice once every three months and will pay for anticipated hosting services for the next 3 months)
– I chose invoices to be issued on the 15th of each invoicing month
– I chose the prefix of the invoice series from which this subscription will issue invoices
– I composed the text of the mail that will be sent to the customer together with the invoice
– I have defined the email address where I want to receive a copy of the mail that will be sent to the client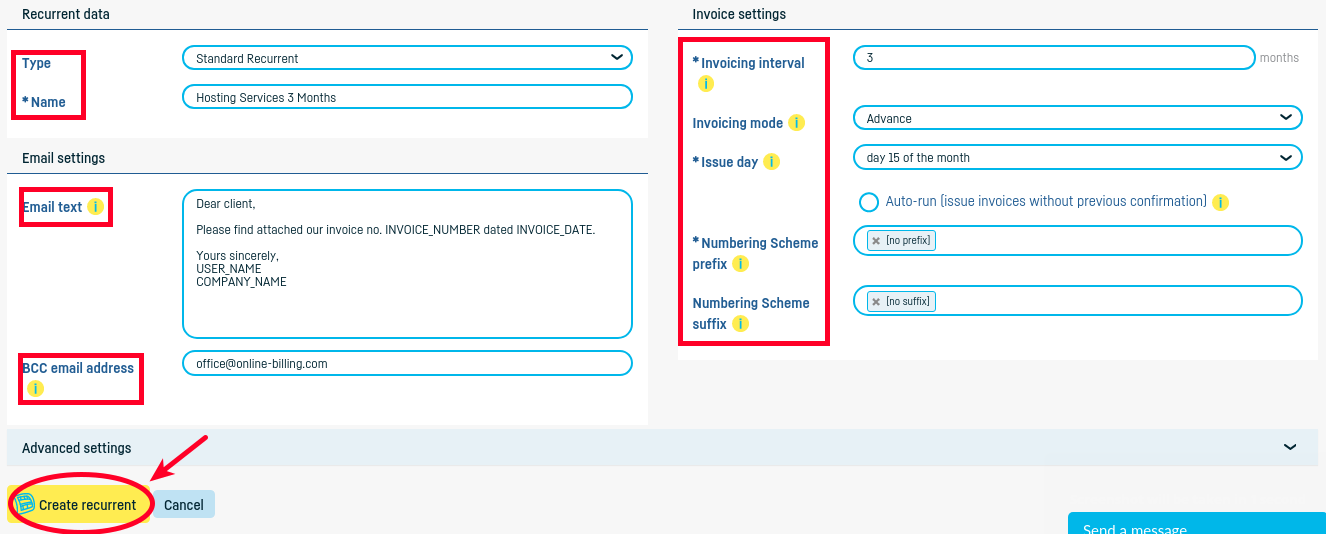 *How do I use advanced settings
** Creates variables that appear on the invoice**
The variables are useful if you want a specific subscriber specific information to appear on each invoice. For example, you want each invoice to contain the contract number, the date of the contract (these variables can appear on the invoice at 'Name' or 'Description).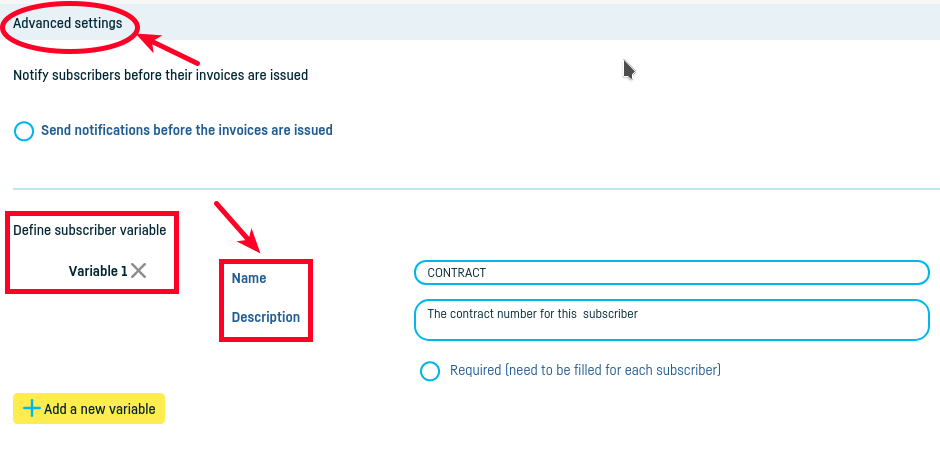 Follow the stepts to create a variable:
– as a name, write the marker (the variable name), which will then be replaced by the information you define when create a new subscriber.
– at the description explain in a few words what this variable means
– if you check 'required', you will not be able to add a new subscriber without giving that variable
– click on '+Add', to create other variables
– Click on 'Add recurrent template' to define an invoice template for a recurrent.

Back to index