Back to index
How do I add a subscriber?
Once you have created a recurrent and you have defined an invoice template  you can go to the next step, that is add subscribers to that subscription.
Let's continue the example from step 1 and proceed to  step 2 namely the hosting recurrent:
– Click 'Others', then 'Recurrents', then click on the desired subscription name, where you find the '+ New Subscriber' button and click on it;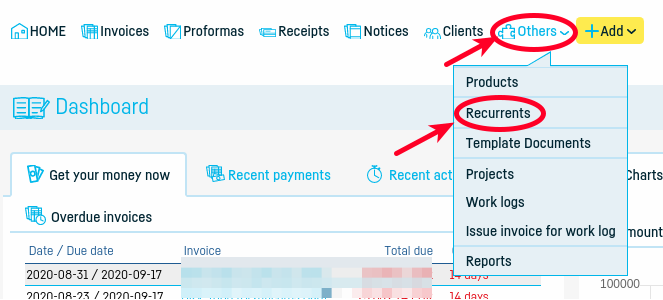 -In the new open page, I first select the client to become a subscriber;
– We have completed the date on which the subscription will begin and the date on which it will end (if there is a contract that does not have the end time, we do not complete the 'Invoiced until') boxes;
– I left the issue day defined in step 1 How to add a recurrent (you can change the day of issue if it is needed for a particular client);
– We have specified that for this client we have already invoiced hosting services by October 2020, so the first invoice issued for this client will cover the October-December 2020 period.
(normally you do not have to fill in the 'Invoiced to' field, it will update automatically every time the recurrent runs);
– As email I put the address where the client will receive the invoices;

– Because at step 1 How to add a recurrent we have defined a variable, CONTRACT, I fill in and those fields with specific information (they will then appear on the invoice issued to the customer, where we passed the values on the invoice template created at step 2;
– After saving, the client will be added to the subscribers list.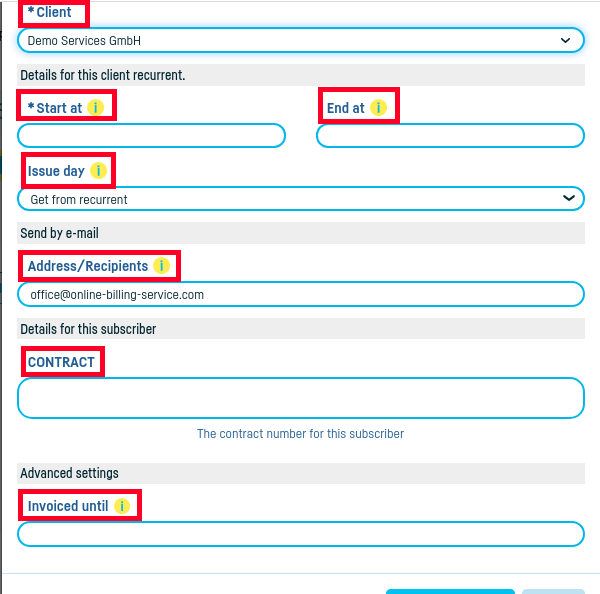 Now, I can run the recurrent. By running, the recurrent will issue invoices to all its subscribers.
From now on you will receive notifications whenever you have recurrents to run for issuing invoices to subscribers. Online-billing-service.com will not automatically issue your invoices, this process must be started by running the recurrent.


Back to index