Back to index
How do I generate an invoice from a notice?
1. Add a notice
– Click on '+Add' and select 'Notice'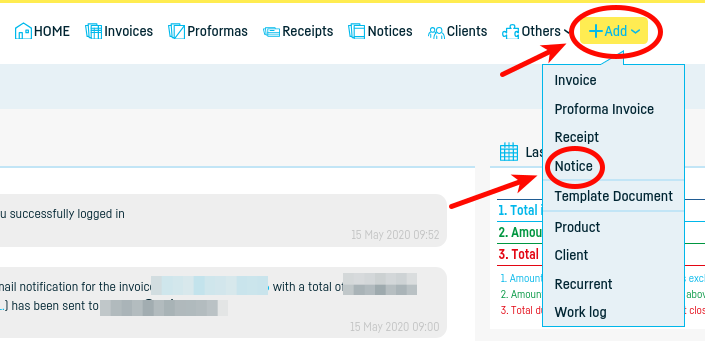 – Fill in the notice data with the relevant details

– Save the notice as a draft first and, after making sure all the information is correct, save it as issued.
2. Once you have saved your notice, click 'Generate invoice' in the options box to the left of the notice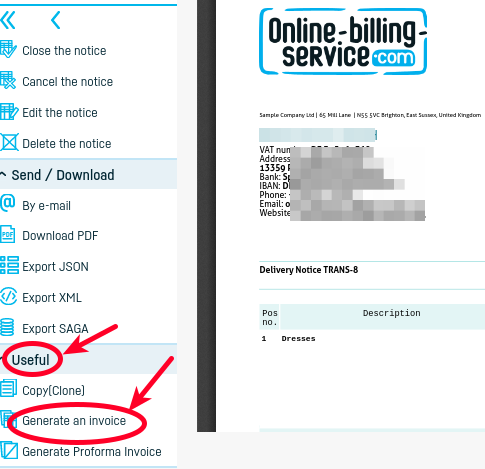 3. Follow the usual steps for adding an invoice.
*Other important information:*
– your company data is automatically populated
– find out here how to add a new client or  how to import a clients list from your computer.
-the notice number will automatically populate after you define a numbering scheme (find out here how to define a document series)
– you can describe the product or service by hand or you can add a product or service from the product list from online-billing-service.com (find out here how to add a new product / service or how to import a product / services list from your computer).
– if you select a product from  the list of products in the product description, then the unit of measure and the price will be automatically filled
– find out here how to enter discounts on your invoice
– as a note, you can write, for e.g., 'according to contract no. X in DD.MM.YYYY'
– find out here how to set default values to automate even more the process of issuing a document (information such as due date, exchange rate, issuer etc. will be generated automatically whenever you issue a document).
– find out here how to change the notice design / template.

Back to index